Click on model number or picture to view larger image.
Eagnas Badminton Stringing Machine
Special Price : $749.00 only US$469.00 Free Stringing Tools Plus String & Other Deal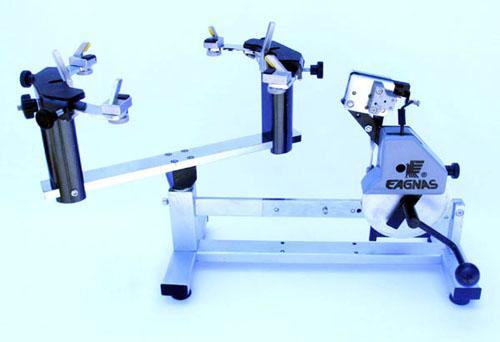 Specifications:
Features:
Six-point, suspension mounting system provides 10-point supports and eliminates any racquet distortion.
Micro-adjustable padded head and throat mounting posts: could move in and out without any adapter.
Single-action quick shoulder support arms: turn a single knob to control both shoulder support arms.
Padded V-shaped shoulder supports perfectly fit against the frame.
Manual crank spring tensioning system strings all racquets fast and precisely, very easy to operate.
Reversible crank accommodates both right-handed and left-handed stringing operation.
Adjustable-width linear ball bearing string gripper handles any size of string and prevents string damage.
All-metal machine base and track arm with level-adjustable pads
Tools: 1 6mm Allen wrench, 1 5mm Allen wrench, 1 4mm Allen wrench
Free stringing tools: 1 DP-507 diagonal cutter, 1 NP-500 needle nose pliers, 1 BS-909 badminton awl, and 1 PN-3092 string mover
User's manual
Free illustrated stringing tutorial guide: show you how to string racquets step by step
Table-top, easy to operate, also the gross weight has been reduced to only 9.5Kgs.
Designed for fast, easy setup and dis-assembly
Easy to convert to professional stringing machine; just need to use the optional floor stand.
2 years warranty for the string clamps and manual crank tension head
5 years warranty for all the mechanical parts
Options:
ST-200C1 wheeled carrying case:
Fantastic design becasue you could store it away easily at home, as well as take it on the road.



Only US$50.00
Multi-pockets design
Large main compartment
Tool organizer panel
Eight zippered tool storage pockets
Four zippered mesh organizer pockets
Padded base storage compartment
Padded swivel bar storage
Padded tension head compartment
Padded mounting stock compartment
Pull-out handle
Multiple grab handles

PT-210 floor stand:
Convert table-top ST-250 to professional stringing machine.



Only US$129.00
Special design for ST-250 badminton stringing machine
Adjustable height from 30" to 35.5" (80cm to 90cm)
Metal tool tray with pad
Convenient reel holder
All-metal machine base with level-adjustable pads
---
Floor Stand of Stringing Machine
Model Number: PT-210 only $139.00.
Specifications:

Metal floor stand
Adjustable height from 30" to 35.5" (80cm to 90cm)
Stand weight: 18.3LBS (8.3KGS)
Stand dimensions: 22.0X22.0X31.5" (56.0X56.0X80.0cm)

Features:

Special design to convert the table-top stringing machine into the upright stringing machine
Metal tool tray with pad
Convenient reel holder
All-metal machine base with level-adjustable pads
Height adjustable to string in a more relaxed posture, easy to adjust
Easy to carry
Other brands' compatible models:
| | | |
| --- | --- | --- |
| Model | Price | Status |
| Yonex: PT-220 | $170.00 | Identical to Eagnas PT-220 |
| Eagnas: PT-220 | $139.00 | |
---
For order information call or write:
Maxline
18116 S. Hobart Blvd.
Gardena, California 90248
U.S.A.
Tel: (310) 523-4641
FAX: (310) 538-9686
E-mail: maxline@eagnas.com
Order online: https://www.eagnas.com/store/index.php
For order in Japan call or write:
Eagnas
1791-2, Mefuki, Noda City
Chiba, 278-0001
Japan
Tel : 047-199-9267 (Japanese)
Fax : 047-199-9265
E-mail: eagnasjp@chic.ocn.ne.jp
Website: www.eagnas.com/japan