Click on model number or picture to view larger image.
Eagnas Electronic Racquet Stringing Machine
Special Price : $599.00 only US$469.00 Free String Plus String & Other Deal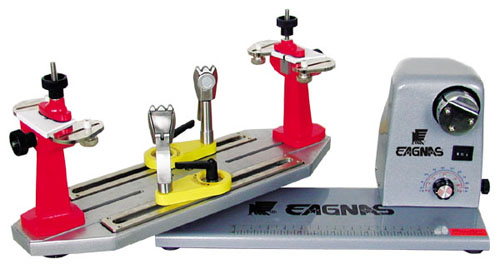 Specifications:
Features:
Electronic tension head (U.S.A. patent pending, Taiwan patent pending, China patent pending)
Two-point mounting system with 2 extra support points at head and throat mounting stocks: provide 4 extra supports from outside or inside (an importer calls six-point inside mounting systems.)
Micro-adjustable head and throat mounting posts
Frame retainers protect against scratching the frames finish.
Dual-action swivel clamps can move in any direction up and down; and can handle all types of racquets without extra accessories.
2 slim diamond-coated, thumb-adjustable stainless steel swivel clamps (PN-1012). Stringing has never been as easy and efficient as it is now with the Eagnas thumb-adjustable clamp.
All-metal ConeLock swivel clamp bases: provide smooth operation.
360 degree racquet rotation
Tools: 1 6mm Allen wrench, 1 5mm Allen wrench, 1 3mm Allen wrench
Free stringing tools: 1 DP-507 diagonal cutter, 1 NP-500 needle nose pliers, 1 BS-809 tennis awl, and 1 PN-3092 string mover
User's manual
Free illustrated stringing tutorial guide: show you how to string racquets step by step
String all racquets: tennis, oversized tennis, widebodies, longbodies, fan patterned, squash, racquetball, and badminton.
1 year warranty for the electronic tension head
2 years warranty for the string clamps
5 years warranty for all the mechanical parts
Options:
Click here to view customers' comments on Hawk 126e stringing machine.
Other brands' compatible models:
Hawk 126e detailed comparison chart:
Model
Eagnas:
Hawk 126e
Silent Partner:
e.Stringer CL
Price
$599.00 only $469.00
Two-point, hold-down mounting system


Yes
Yes
2-point mounting


Yes
Yes
Inside 6-point supports


Yes
Yes
Outside 6-point supports


Yes
No
2 tennis swivel clamps



Slim stainless steel thumb-adjustable (PN-1012)


Aluminum
thumb-adjustable
2 badminton swivel clamps
No
No
2 swivel clamp bases



Metal ConeLock
Yes
Tension head


DC motor, electronic
AC motor, electric
Tension range

10-90 pounds
4.5-40.9 kilograms
30-80 pounds
Input power selection

Yes, 110V or 220V
power input.
Easy to switch
No, can not switch power input
Fuse protection

Yes, fuse protection with On/Off
power switch.
Easy to turn on/off

No, and no On/Off
power switch
Rotatioanl string gripper

Metal, diamond-coated:
Much better and easier.


Plastic using sandpaper as gripping surface
360 degree swivel turntable


Yes
Yes
Turntable base

Ball bearing:
much easier to rotate,
never wobble
No ball bearing
Machine base

Metal
Yes
Stringing tools
1 DP-507 diagonal cutter,
1 NP-500 needle nose pliers,
1 BS-809 tennis awl, and
1 PN-3092 string mover
1 Needle nose pliers,
and 1 awl
Status
Much better and cheaper the other importer, and also offer excellent value.
Discontinued
---
---
For order information call or write:
Maxline
18116 S. Hobart Blvd.
Gardena, California 90248
U.S.A.
Tel: (310) 523-4641
FAX: (310) 538-9686
E-mail: maxline@eagnas.com
Order online: https://www.eagnas.com/store/index.php
For order in Japan call or write:
Eagnas
1791-2, Mefuki, Noda City
Chiba, 278-0001
Japan
Tel : 047-199-9267 (Japanese)
Fax : 047-199-9265
E-mail: eagnasjp@chic.ocn.ne.jp
Website: www.eagnas.com/japan