Lobser Ball Machine
Special Price : $1,419.00 only US$1,389.00 (120VAC power input)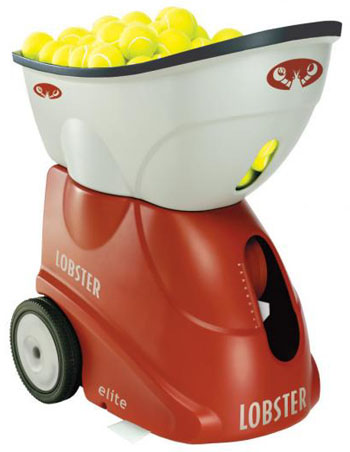 Click on picture to view larger image.
Affordable battery-operated tennis ball machine
Full corner-to-corner random oscillation
Designed for maximum durability to meet the most demanding players needs.
The battery playing time and convenient battery life indicator makes travel and play easy anywhere, anytime.
The Elite's ergonomically designed oversized wheels and handle are created for easy transportation, and also while the machine stores easily in any car's trunk.
Oscillation: Random vertical only, Random horizontal only, Random horizontal and vertical
Spin: Heavy top and back
Ball capacity: 150
Ball speed: 20 - 80 miles per hour (16 km - 128 km)
Shot intervals: Adjustable 2 to 10 seconds
Power: battery
Battery power: 4-8 hours
Electronic elevation: 0-50 deg
Weight: 44 lbs / 20 kg
Warranty: 2 years
Price includes UPS ground shipping for 48 continuous states
For 240VAC power input, contact us for price.
Options:
Premium Fast Charger
Performs all the functions of the original fast charger with 3 times the speed.
Charge time is in 1-3 hours.
Never overcharge the battery.
Only $148.95

Fast Charger
Charge time is in 3-9 hours.
Never overcharge the battery.
Only $98.95

Machine Cover
Protect the machine from dust and moisture when in storage.
Only $48.95

External Battery Pack
Will provide you with an additional 4-8 hours of court time.
Includes a large 18-amp sealed lead-acid battery, battery cord with connector, XLR adaptor, 1-amp fast battery charger, and canvas carrying bag with shoulder strap.
Only $178.95

External AC Power Supply
Transforms a normal battery ball machine into an AC/DC powered ball machine.
Simply plug the external AC power supply into the machine and enjoy continuous, uninterrupted play.
Only $118.95
---
For order information call or write:
Maxline
18116 S. Hobart Blvd.
Gardena, California 90248
U.S.A.
Tel: (310) 523-4641
FAX: (310) 538-9686
E-mail: maxline@eagnas.com
Order online: https://www.eagnas.com/store/index.php