Lobser Ball Machine
Special Price : only US$1795.00 (120VAC power input)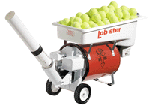 Click on picture to view larger image.
Random Dual Oscillation sweeps horizontally and vertically
Strike eight spots on the court simultaneously
Provide you with both short and deep shots
Simulates real match play by moving you from sideline to sideline and baseline to net
Oscillation: three ball settings - random vertical/horizontal, random horizontal, one spot
Shot height: true lobs to powerful ground strokes
Ball capacity: 150
Ball speed: 15 - 70 miles per hour (24 km - 112 km)
Shot intervals: Adjustable 3, 6, 12 seconds
Manual Elevation: 0 - 80 degrees
Weight: 32 lbs. (14.5 kg)
Package dimensions: 39x15x24in / 99x38x60cm
Spin Adaptor (optional): topspin, underspin, sidespin
For 240VAC power input, contact us for price.
Options:
Spin adaptor
Most popular adaptor creates a heavy topspin or underspin on the ball.
Porvides: topspin, underspin, or sidespin
Only $49.95

Machine Cover
Protect the machine from dust and moisture when in storage.
Only $48.95
---
For order information call or write:
Maxline
18116 S. Hobart Blvd.
Gardena, California 90248
U.S.A.
Tel: (310) 523-4641
FAX: (310) 538-9686
E-mail: maxline@eagnas.com
Order online: https://www.eagnas.com/store/index.php