Lobser Ball Machine
Model Number: Phenom
Special Price : $3,149.00 only US$3,095.00 (120VAC power input)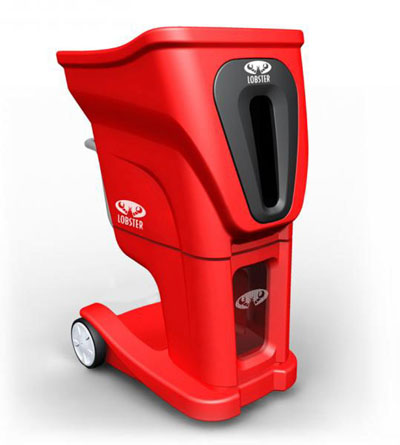 Click on picture to view larger image.
The Phenom is among the latest tennis ball machines to be released by Lobster Sports. The Phenom is designed for tennis clubs, resorts, and home court owners looking for the latest in tennis ball machine technology at a price well below the competition. The Phenom offers unrivaled full random oscillation. This revolutionary design allows the machine to throw balls throughout the entire spectrum of the court mixing up speed, spin, trajectory, oscillation, and feed rate. This fully random technological advancement allows for the Phenom to realistically simulate true match play, a feature that is unsurpassed by any machine in its class.
Oscillation: Random Horizontal (Short, Mid, Deep); Random Vertical (Left, Middle, Right); Fully Random Horizontal & Vertical with variable Speed & Spin; Triple-Oscillation (Random Depth, fixed Speed & Spin)
3-Line Function: 3 Positional Settings; Narrow, Medium, & Wide (Select Short, Medium or Random Depth)
Pre-programmed Court Drills: 3 separate six-shot drills (Grinder, Power Baseliner, All-Courter)
Spin: Top, Back
Ball capacity: 250
Ball speed: 35 - 80 miles per hour (56 km - 128 km)
Feed Rate: 2 to 9 seconds, random
Power: AC (battery models available)
Elevation: Electronic, 0-50 degrees
Weight: 99 lbs / 45 kg
Dimensions: 32" x 25" x 50" (81 x 63 x 127 cm)
Warranty: 2 years
Price includes UPS ground shipping for 48 continuous states
For 240VAC power input, contact us for price.
Options:
20-Function Wireless Remote Control
Gain greater control of your training regimen
The state-of-the-art compact controller allows you to make instantaneous changes to functions like: play/pause, oscillation sweep, fully random, 2-line, speed, feed, spin, and much more.
This option may be pre-installed by the factory or by the owner after purchase.
Only $298.95

iPhone Remote Control
This proprietary system allows you to use your iPhone or iTouch device as the Remote Controller for complete operation of Lobster ball machine.
The iPhone Remote Control Assembly consists of a factory installed Wi-Fi Receiver and the available free iPhone Remote Control App available for download on iTunes.
Only $298.95
---
For order information call or write:
Maxline
18116 S. Hobart Blvd.
Gardena, California 90248
U.S.A.
Tel: (310) 523-4641
FAX: (310) 538-9686
E-mail: maxline@eagnas.com
Order online: https://www.eagnas.com/store/index.php