Lobser Ball Machine
Special Price : only US$1595.00 (120VAC power input)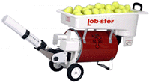 Click on picture to view larger image.
Economical alternative to the Tournament 401 model
Random Oscillation sweeps horizontally creating a random pattern of shots from sideline to sideline
Oscillation: two ball settings - random horizontal, one spot
Shot height: true lobs to powerful ground strokes
Ball capacity: 150
Ball speed: 15 - 70 miles per hour (24 km - 112 km)
Shot intervals: Adjustable 3, 6, 12 seconds
Manual Elevation: 0 - 80 degrees
Weight: 31 lbs. (14 kg)
Package dimensions: 39x15x24in / 99x38x60cm
Spin Adaptor (optional): topspin, underspin, sidespin
For 240VAC power input, contact us for price.
Options:
Spin adaptor
Most popular adaptor creates a heavy topspin or underspin on the ball.
Porvides: topspin, underspin, or sidespin
Only $49.95

Machine Cover
Protect the machine from dust and moisture when in storage.
Only $48.95
---
For order information call or write:
Maxline
18116 S. Hobart Blvd.
Gardena, California 90248
U.S.A.
Tel: (310) 523-4641
FAX: (310) 538-9686
E-mail: maxline@eagnas.com
Order online: https://www.eagnas.com/store/index.php